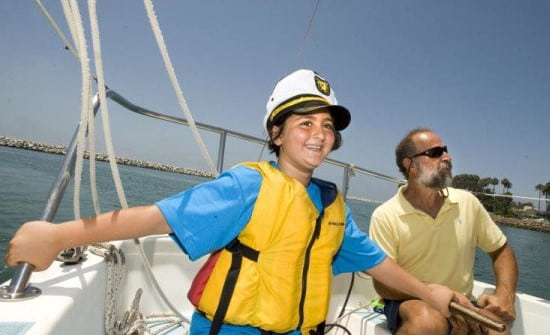 A few weeks ago we received a call from Rachel, a social worker at the Onn School for children with disabilities in Tel Aviv. Rachel had heard about the Malki Foundation after one of the staff members at the school had given a presentation about Malki and the Foundation in honor of Yom Hazikaron. She was calling urgently to get help for Yoav, one of their students who was in great need. "His father is collapsing from the financial and emotional strain," she said.
Yoav is 16 years old and lives with his father in Tel Aviv. He is an avid sailor and loves music. He even won a prize in a sailing competition last year. When he was 4 years old, his parents noticed that he was falling a lot and lacked the strength they saw in other kids his age. The diagnosis – Duchenne Muscular Dystrophy (DMD) a genetic disorder characterized by progressive muscle degeneration and weakness. Because the DMD affects all of the muscles in Yoav's body he has been using a motorized wheel chair since he was 8 years old.
The DMD also affects his lungs, which has led to problems with his breathing – his lungs fill up with mucus and he must use a special machine in the morning and at night to remove it and help him breathe.
Physical therapy is essential to help Yoav's lungs function better and prevent the accumulation of phlegm. But the 2 times per week that he receives physical therapy at school is not enough, and Yoav has been in and out of the hospital with pneumonia and other respiratory issues. He has no appetite and, as a result, he is underweight and suffers from iron deficiency.
The therapy, medication, and hospital bills were financially debilitating and the father didn't know where to turn. After Rachel's call we expedited his application for our Therapies at Home program (TAH) to the acceptance committee and he was approved for additional physiotherapy right away.
These additional physiotherapy sessions are meant to reduce the burden of care which has been weighting so heavily on Yoav's father, and keep Yoav out of the hospital and doing the things that normal teen agers do – listening to music, socialized with their friends, and, in Yoav's case, sailing on the Mediterranean Sea.