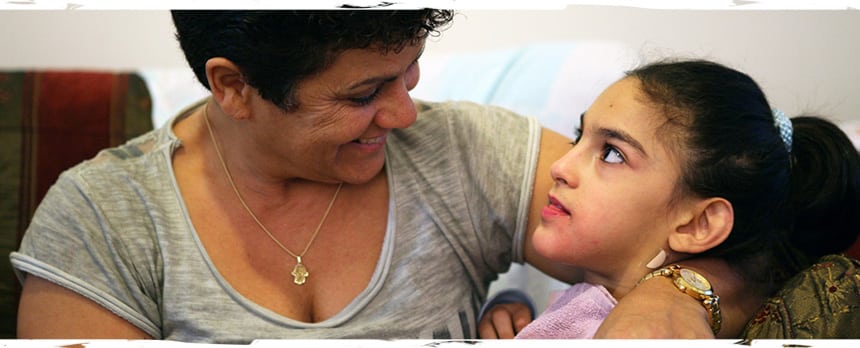 Hodaya, 16 years-old, is the youngest of 3, and was born with Cerebral Palsy. She lives with her family in Jerusalem. Hodaya has been receiving hydrotherapy through our Therapies at Home program since 2013. The hydrotherapy helps heart and lung function, maintain muscle mass, and clear mucous from her lungs. Her mother, Zehava, spoke about Hodaya and the therapies she receives at our Rainbow of Music concert. Here's what she said:
Good evening
Sixteen years ago today exactly, I gave birth to a lifeless baby. But after 15 minutes of CPR, I received a precious gift. Her name is Hodaya.
Hodaya suffers from severe cerebral palsy, epilepsy and respiratory problems. She is totally dependent on others for all her needs.
G-d holds Hodaya by one hand and guards her. I thank Him always for giving her life.
Her other hand I hold. I am with her always.
Five years ago, another hand joined mine. It was the Malki Foundation. It has been helping us to provide Hodaya with a better life.
The Malki Foundation enables my Hodaya to have hydrotherapy sessions that are otherwise too expensive for us to afford. Hydrotherapy is critically helpful to her heart/lung functioning. To help clear away the excessive mucus that builds up inside her. To preserve her range of movement. To help prevent muscle spasms and to preserve her muscle tone.
Today I stand here on Hodaya's behalf. I have the pleasure and the honor to say "thank you" to all those involved in the holy work of the Malki Foundation.
We have a famous saying: "Whoever saves a single life, it is as if he saved the world."
I am grateful for the privilege of being part of the Malki Foundation family
Yishar koach! Well done!
Thank you to Zehava, Hodaya's mother, who volunteered to talk about her experience and has given us permission to share her words. We admire your strength, courage, and dedication.