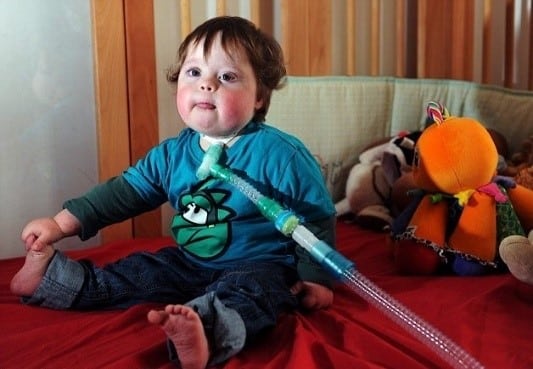 Ido is a smiley, friendly 2 year-old boy who was born with serious development delays, birth defects and respiratory difficulties. He lives with his parents and his 3 siblings in the city of Nahariya.
Ido's digestion and motor issues dictate that he can only eat pureed foods in small amounts and he has to be woken up two times per night to eat in order to meet his nutritional requirements. His breathing is aided by a tracheotomy tube. Ido has been receiving speech and physiotherapy at home through our Therapists on Wheels (TOW) program since September, 2017. The physiotherapist is working on helping him sit up straight (he also has scoliosis), improve his movements – including crawling – and advancing his ability to play and communicate.
Ido's mother called the office recently to thank the Malki Foundation with all of her heart because Ido had started to crawl, and even say a few words. When Ido said, "Aba" (Dad), it was a deeply emotional moment. She told us that the support that her family receives from the Malki Foundation gives her the physical, mental, and economic strength to help her son through the daily challenges so that one day he can be more independent.