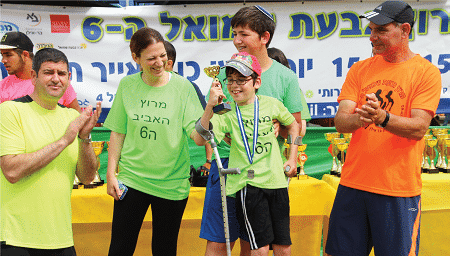 Nethaniel was born with cerebral palsy and his parents were told that he would never walk. Now 10 years old, he just completed a 2 km race!
From the beginning, Nethaniel's parents refused to accept 'no' for an answer. When he was released from hospital, they started him on an intensive paramedical therapy program, with financial support from the Malki Foundation Therapies at Home program.
In May, Nethaniel participated in the 2 kilometer (1 mile) Givat Shmuel Fun Run, walking and running together with extended family and friends. The money raised was donated to the Malki Foundation to help other children with disabilities and to "pay forward" the support they received.
Debbie Fishman, Director of the Malki Foundation, says: "Nathaniel's astonishing progress is a tribute to his and his family's determination. When we empower children to succeed, we help them to overcome their limitations. Nethaniel, we are proud of you!"