At 2.00pm on a hot summer's day in August 2001, a Hamas terror gang executed a bomb attack via a human bomb and a team of bombers on a busy pizza shop in the center of Jerusalem.
A resident of the village of Aqaba, north of Tulkarm, the human bomb, Izz al-Din Shuheil al-Masri, single and 23 (by some accounts 22), son of a well-to-do land-owning family, entered the busy Sbarro branch at the corner of King George Street and Jaffa Road at lunchtime on a school vacation day in Jerusalem.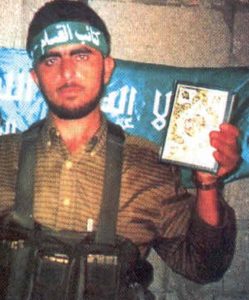 (Many news and analysis sources use the expression "suicide bomber". We reject that term; al-Masri's goal and that of his handlers and the others involved was not for him to kill himself – that was a mere by-product of the plot – but to kill others. This is not suicide and calling it that amounts to an unjustified focus – or worse – on the actions and motivations of the barbaric killer and his accomplices.)
Entirely unguarded at the time, the Sbarro restaurant was filled with patrons, most of them children and young mothers. These, as we subsequently learned, were precisely the preferred target of the barbarians of Hamas and its allies. Fifteen people were murdered there that day, most of them children, including Malki Roth. One remains unconscious more than a decade later. Some 130 others, including passers-by, were injured in various serious degrees.
The attack on Sbarro was carefully and deliberately planned by multiple individuals in the service of jihadism in general and Hamas, the pre-eminent practitioner of Islamicist savagery, in particular.
For an overview, we recommend reviewing the long and detailed feature article that appeared some months after the massacre in the pages of the Sunday Times Magazine, London. Under the title "The Human Time Bomb", by Sarah Helm, it reveals and analyzes the roles of the terrorists (some of them at least) and their supporters whose efforts produced the bloodbath of August 9, 2001.