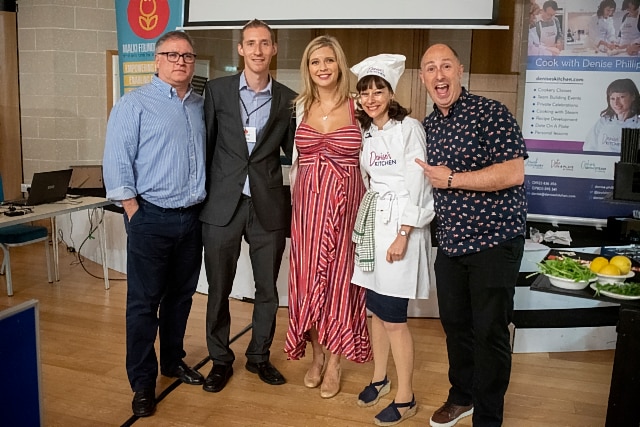 Over 80 women attended this special event which included scrumptious and informative cooking demonstrations by celebrity chef Denise Phillips, Cocktail/mocktail how-to's by Steve the Barman and a special chocolate tasting using touch, taste and smell by David Zulman from Firetree chocolates. Adding to the evening was the participation of TV Presenter, Rachel Riley, who joyfully participated in the demonstrations, stirring chocolate and shaking drinks. During the Q&A Ms. Riley spoke about her recent wedding, her favourite football team, Manchester United, and standing up to anti-semitism.
The event was in honour of the Malki Foundation, a not for profit organization based in Israel, which supports the paramedical therapy needs of children with disabilities in Israel. The goal of the evening was to raise funds to purchase Gait Trainer walkers to assist children with disabilities in learning to walk and participating in daily life activities. Over the course of the event we were able to raise enough funds to purchase 2 walkers which will be donated to the new Children's Equipment Lending Library in Alyn Pediatric Hospital in Jerusalem.
The Malki Foundation was founded in the memory of Malka "Malki" Chana Roth, z"l, who was murdered in the brutal Sbarro Terrorist Attack in Jerusalem in August, 2001. Malki was very close to her sister Haya, who is severely disabled. In the days after her murder, Malki's parents, Arnold and Frimet Roth, felt that the best way to honour her memory would be to form an organization to help children with disabilities living at home get the care they need. The Malki Foundation helps all children regardless of race, religion, and socioeconomic background.
When talking about her connection to the Malki Foundation, Rachel said:
"Malki and I would have been the same age and at a time in my life when I prepare to become a mother it brings it home just how much she and her family have missed out on with her life tragically cut short. Honouring her memory by helping young disabled children is a very fitting tribute."
Gila Hartnell's words on behalf of the Malki Foundation summed up the sentiments of the evening:
"We were honoured to enjoy a fabulous evening with Rachel Riley, an outstanding person of fortitude, along with Denise Phillips, David Zulman and Steve the Barman. The evening has enabled us to raise funds for the much needed Gait Trainers which shall enable young children with disabilities to establish proper walking skills. The Malki Foundation is most grateful for the attendance of all the ladies who supported this event."