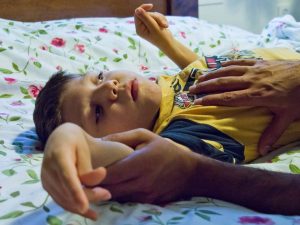 "Thank you, thank you, thank you for your constant help! The atmosphere in our home has changed completely since we started in your program. The changes in our son [as a result of the therapy he has received] have given us a whole new outlook on life. We are so appreciative and thankful for your help! Keep up the good work!" 
 These words are from the parents of Itamar, a very special child with disabilities living in northern Israel.  Itamar was born with Itamar was born with multiple congenital anomalies including heart and corneal defects.
He is fed through a tube and has severe developmental delays. When we met him, he could not even hold up his head. A few tries at a rehabilitation day center failed because of his complicated situation. Itamar stayed at home, laying in bed all day and with no therapist to address his needs.
Now, thanks to our Therapists on Wheels program, Itamar and his family have new hope.   He is visited weekly by two qualified and highly experienced therapists (speech and physiotherapy) who are helping him progress in his development.  Dena, the physiotherapist, has helped him learn to use the specialized stander that gets him upright and, in addition, helps improve his breathing, develop balance and build bone mass.  She is also teaching the family how to meet Itamar's many needs at home and how to do specific exercises that will meaningfully help his continued physical and mental development.
His last update reported that he can now crawl on all fours and even pull himself up to a standing position! This is the kind of results that paramedical therapy can bring!
And you can see from the quote above that it has changed their lives.
Though their journey is undoubtedly a difficult one, it has become much easier to face with the Malki Foundation's support.  Thank you to those of you that help make this hope happen.  We couldn't do it without you.
Read more about Itamar and the other children we assist at:
https://kerenmalki.org/meet-the-kids-personal-stories-of-children-with-disabilities/