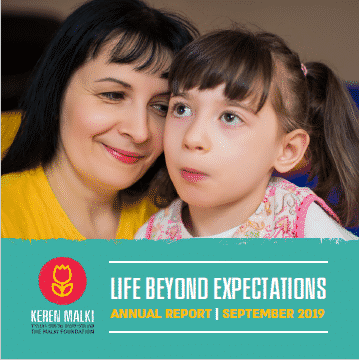 It is hard to believe that it has been 18 years since we lost the beautiful soul that was Malka Chana Roth z"l. There seems to be a disconnect between the number 18 – which in Hebrew represents "chai" or life – and the fact that she is not here with us anymore. How can one live if they are no longer here on earth? The answer is that Malki's spirit lives on through the chesed (good deeds) and tikun olam (improving the world) that she exemplified in her short life. Her love for children and her giving spirit lives on through the fine work of families who care at home for their children with disabilities every day, overcoming obstacles and challenges.
The Malki Foundation 2019 Annual Report highlights the strong and dedicated families we help and the amazing therapists who support them. Read about our accomplishments this year and the special community that helps make our work possible. Take a moment to peruse the report – you won't be disappointed. On the contrary, we are sure it will bring you faith and hope in the ability of the human spirit to rise above expectations.
Please click here to read the Annual Report and share it with your friends.