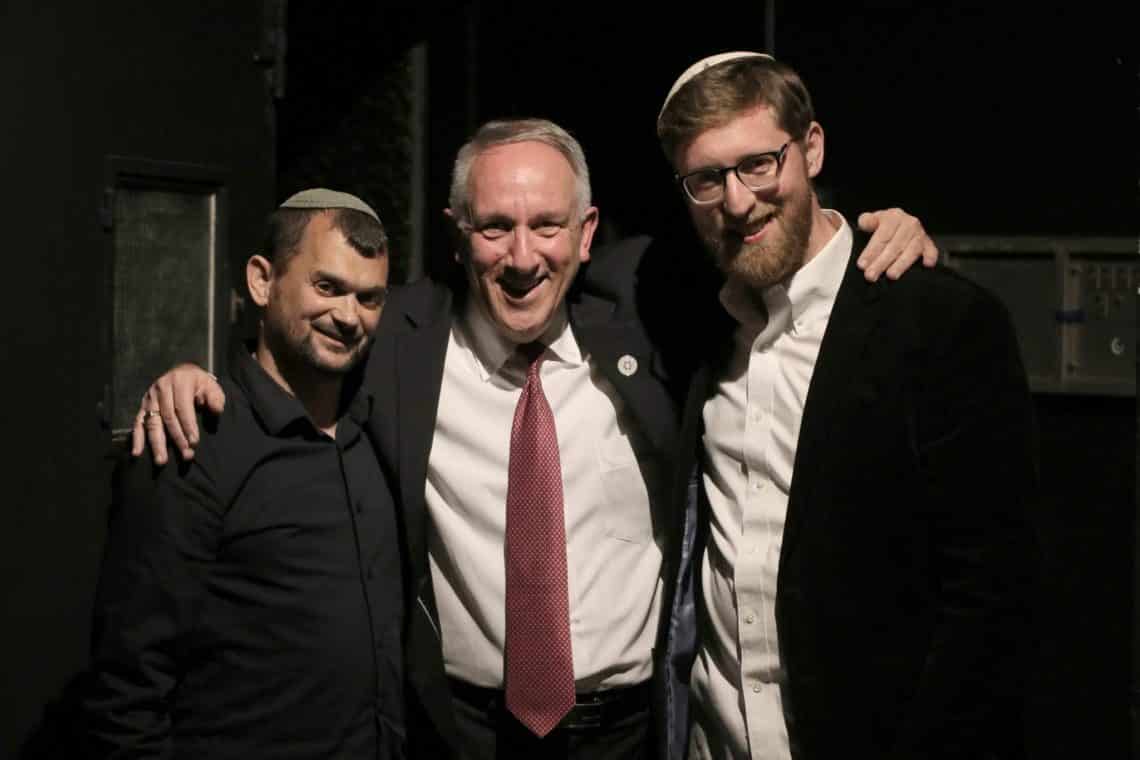 Bringing Him Home
In certain respects, the Malki Foundation's Rainbow of Music concerts, annual events in Jerusalem and Ra'anana, walk a thin line.
On one hand, an evening of joyous celebration of life and of the music that brings delight. On the other, a serious purpose – raising charitable funds for a terrific cause – tied to tragic circumstances, the murder of Malki Roth in the 2001 Battle of Sbarro in Jerusalem.
The Malki Foundation was established in 2001 to become a living memorial to Malki's beautiful life.
Last night's fabulously successful concert in Jerusalem came with an additional layer of paradox and complexity.
Shai Abramson, who along with Yitzchak Meir was one of the concert's featured performers, happens to be the Chief Cantor of the Israel Defence Forces.
And yesterday evening that senior IDF role caused him to be late in arriving at the Jerusalem Theatre for the Malki Foundation event. He was the hazan (cantor) leading the prayers at the funeral of Zachary Baumel z"l, a soldier who fell in battle nearly four decades ago.
Still in uniform (which he soon shed for the rest of the concert), he launched immediately into a soaring rendition of an especially moving song made famous by its role in the smash hit musical, Les Misérables. The title makes clear why Shai wanted it to be his opening, in place of the playlist appearing in the programme: Bring Him Home.
Perfect Harmony
In addition to this special tribute to our fallen soldier, the Ramatayim Men's Choir, Shai Abramson and Yitzchak Meir harmonized their way through songs such as Like A Bridge Over Troubled Waters, Yeratseh Tsom Amcha, V'al Kulam- Sim Shalom and, of course, Malki's song, sung by our dear friend, Naftali Weiss.  There were many more moments of musical enjoyment as well as the usual jokes by talented and funny Rafi Barnett.  Naomi, a mother of a child supported by our program came to give testimony to her family's journey to care for their son with CP at home and the ways that the Malki Foundation supports them.  The final number was a joyous rendition of Leonard Cohen's song Haliluya sung by all.
At the end of the evening, the sold-out crowd of more than 450 supporters left the concert smiling and happy, sending their compliments to the choir and the organizers.  Overall it was a very successful event and we sincerely thank everyone – organizers, sponsors, and most of all, concert-goers, who helped make it so.
See you next year!
Looking forward to next year's concert.  Just make sure you don't wait to buy tickets…we sold out with a week to go! Thank you to everyone who took the time and the resources to come to our concert.
Here's a recap in photos of our incredible event
The Rainbow of Music concert is proudly sponsored by Mizrahi-Tefahot Bank